131:1 METAL GEARMOTOR 37DX73L MM WITH 64 CPR ENCODER
Product Code:

SG - PU2827

Availability:

Pre-Order
These motors are intended for use at 12 V, though in general, these kinds of motors can run at voltages above and below the nominal voltage (they can begin rotating at voltages as low as 1 V). Lower voltages might not be practical, and higher voltages could start negatively affecting the life of the motor.
These gearmotors are functionally identical to the previous versions we carried without end caps (they use the same motor, encoder, and gearboxes). The black plastic end cap is easily removable if you need to access the encoder or want to slightly reduce the overall gearmotor size, but there is a little bit of base plastic that will remain, as shown in the pictures below:
Details for item #2827
Exact gear ratio:
Dimensions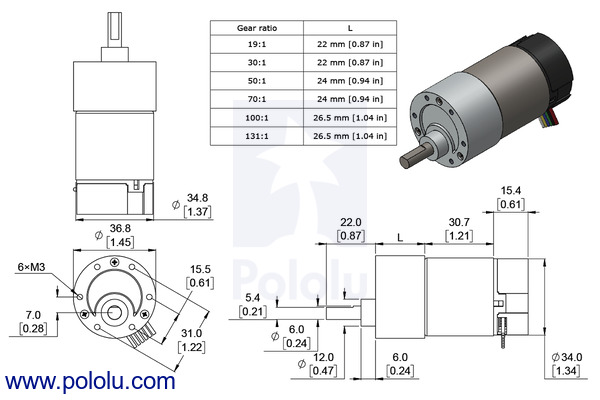 Dimensions of the 37D mm metal gearmotor with 64 CPR encoder. Units are mm over [inches].
Related Products
Brands