MyoWare Muscle Sensor
Product Code:

SG - PU2732

Availability:

3
The MyoWare Muscle Sensor from Advancer Technologies measures, filters, rectifies, and amplifies the electrical activity of a muscle and produces an analog output signal that can easily be read by a microcontroller, enabling novel, muscle-controlled interfaces for your projects. Note: This product requires electrodes; these are not included, but they are available separately in packs of six.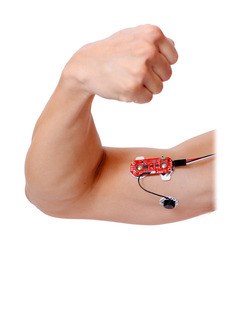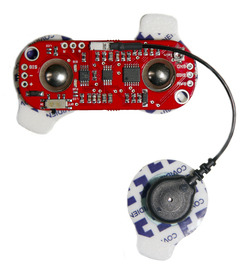 Dimensions
| | |
| --- | --- |
| Size: | 2.1″ × 0.8″1 |
| Weight: | 7.5 g2 |
General specifications
| | |
| --- | --- |
| Minimum operating voltage: | 3.1 V |
| Maximum operating voltage: | 6.3 V |
| Reverse voltage protection?: | Y |
| Supply current: | 9 mA3 |
Notes:
1Sensor PCB size. This measurement excludes the reference electrode cable, which is about 3″ long.

2Without electrodes.

3Typical.
File downloads
MyoWare Muscle Sensor datasheet (1MB pdf)

Datasheet for the Advancer Technologies MyoWare Muscle Sensor.
Recommended links
This GitHub repository for the MyoWare muscle sensor has documentation, like the schematic and user's guides, along with example Arduino code.
This page contains tutorials that demonstrate how to use Advancer Technologies' muscle sensors, including projects like bionic Iron Man armor, a USB biofeedback game controller, and EMG audio biofeedback.

https://youtu.be/-VbCPRMfBnE

Note:

This product

does not

include electrodes; they are available separately in

packs of six

. To use the sensor, an electrode must be connected to each of the sensor's three snap connectors (two on the PCB and the third at the end of the black reference electrode cable).
Related Products
Brands